Ideal for domestic business trips!Summer campaign in progress!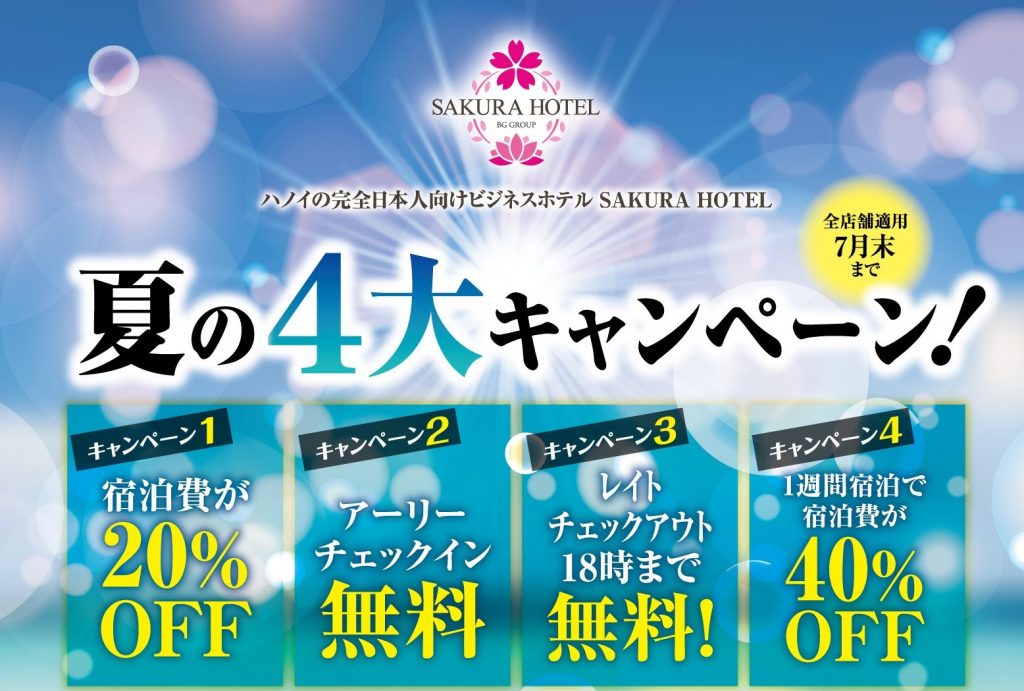 A summer campaign is being held at Sakura Hotel No. 1 (in front of the Japanese Embassy)!!
The campaign period comes with the following benefits
(1) 20% discount on room rates
(2) Early check-in free
(3) Late check-out until 18:00 free
(4) 40% discount on stays for one week
※ Please tell us the contents of the campaign to use at the time of reservation.
Sakura Hotel was built in Hanoi for completeLy Japanese people and has now expanded to three stores.
All design and staff guidance are done by Japanese people, and this hotel is the only hotel in Hanoi where Japanese staff are stationed at the reception.
Now, 90% of our customers are Japanese, so there are few troubles between our customers, making this hotel a popular destination for Japanese businessmen.
1.Correspondence in Japanese
The wall of fine words is still large.
There are many things that can not be transmitted even if it is ripped off by the taxi, and it is thought that it is amusing even a little, and there are a lot of people who pay to cry scary when it is threatened and a high charge in the restaurant in the inside.
Sakura Hotel solves all such fears!
Of course, the trouble and the question in the hotel, and the trouble on the go will be supported in Japanese.
There are 24-hour Japanese-speaking staff at the front desk, including Japanese.
We will respond in Japanese regardless of the time, such as early morning departure or late night arrival.
You can also use it for a variety of requests, such as arranging taxis, arranging sightseeing tours, and booking restaurants.
2.Specialized equipment environment for Japanese
All stores with bathtub (first store separate bath, 2.3 store unit bath)
All rooms are equipped with a shower toilet.
High-speed Internet
Watch Japanese TV programs (terrestrial, BS, CS)
・There is a public bath of the half-open air of all shops (sauna and water bath)
Free laundry
In particular, the large public bath that is used not only by business travelers but also by expatriates is the best of sakura hotel.
Hanoi is humid all year round and steamy, so the public baths that come at the end of the day are the best.
Moreover, you can spend it slowly because it is equipped with a sauna and a water bath!
Of course, guests can use it free of charge!
After taking a bath, you can relax in the relaxing room with massage chair next door.
Japanese comics and TV are also available.
3. Special breakfast
It's good to come to Vietnam and enjoy eating local food, but i think there are many people who can't act in the morning or who are not good at cooking overseas.
For those of you, sakura hotel is a safe Japanese food from breakfast.We will support your start of the day.
Breakfast is prepared in a wide variety of japanese, Western, Vietnamese, etc. and i think that you can enjoy it for a long stay.
In addition, if you can not eat breakfast such as early departure in the morning, please contact us at least the day before, and we will prepare onigiri and vine me (Vietnamese sandwich) according to the departure time of the next day.
All of the menus were devised by Japanese chefs, so you can rest assured.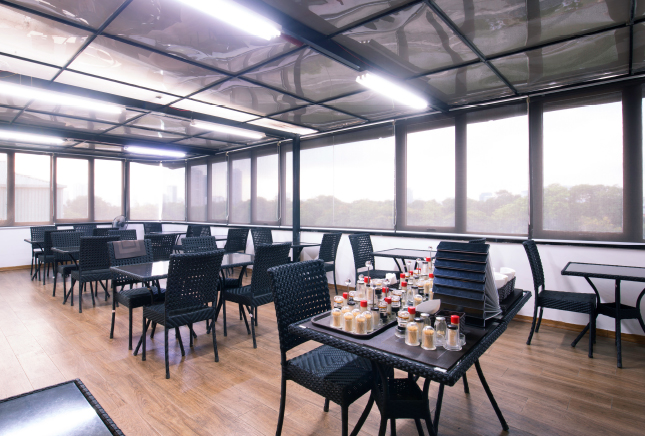 Sakura Hotel is a business hotel that operates mainly in Hanoi, Vietnam.
It is a 5-minute walk from the Japanese Embassy.
Many japanese, Western, Vietnamese pho, and other breakfasts are available.Please enjoy the large public bath where you can put it comfortably.
We are looking forward to seeing you.